Matthew Harrison
With a background of cycling, including John O Groats to
Lands End in seven days, mountain biking Kilimanjaro to local crit races and time trials, I started doing a local 10k running race each year for a bit of variation and then got talked into doing the 2017 Trail Marathon Wales and from there into the Ladybower 50 Mile ultra. Then the constant need to have something in the calendar has seen races around the UK culminating in Ultra Trial Snowdonia 100 last year, its wasn't my best performance as it was three weeks after catching covid, but I loved it!
This year the A race is the Offa's Dyke in August (185 miles nonstop), B race is a 47 mile Ultra around Lake Windermere, C race is undecided, D is the Trial Marathon Wales and E is the Market Drayton 10k.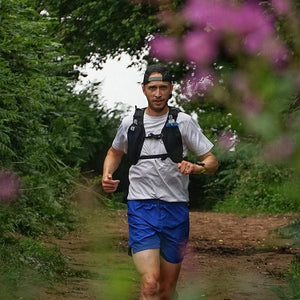 Tim Viner
Husband to an incredibly supportive wife. Father of two incredible boy's, full time working man, mountain bike enthuiast and part time ultrarunner, Tim took his passion and love for running to new levels in 2021.
Even at a young age he loved to run and it was always; the further the better. 
Unfortunate to suffer significant life changing injuries as a result of a motorcycle accident in his late teens his passion for running remained and following a long recovery racing resumed for him in his mid twenties.
By now, Tim was a father of 2 boys and working full time within a demanding environment. The desire to compete was burning strong. Reaching out to his local athletics club he competed in local road races and cross-country series'. Stumbling across the local fell racing scene, he found the hills and discovered a real passion and niche for mountain and trail running.
At the age of 33 Tim was diagnosed with an autoimmune illness, which, once again put the brakes on his desire to compete. Although a frustrating time for him, thankfully access to the right treatment and the good work of the NHS he was able to return to running. Running again helped him build strength physically but also gave him the time mentally to deal with his life changing illness.
At 35 he completed "The Fellsman" his first Ultra a 100K-mountain race.  Almost as soon as the finish line was crossed, he was hooked and straight into signing up for the next event; The Long mynd Hike: a 50 mile hill race in his own back yard: The Shropshire Hills.
A baptism of fire, these two events only laid the groundwork
for moving forward and taught him how to approach ultras in the future. Only two years later, Tim finished in the top ten of the 2019 Long mynd Hike revealing his solid determination and talent to compete at the sharp end, rather than just finish.
The COVID pandemic of 2020 brought an abrupt halt to events and racing, but that was no going to stop him, During June, running a kilometre for everyday of the month he started with 1k on the 1st and finished with 30 on the 30th as well as some extras to make the numbers up during the month. Lockdown
had been a struggle for him like many others but he remained positive and used the opportunity to raise over £3000 for the mental health charity mind.
2020 had lent itself to just getting out there and running from the front door. With so many banked miles in the legs, 2021 saw a return to racing and big plans were on the horizon.  
First setting an FKT for the Oswestry round, he was then one of very few runners to successfully complete the Welsh 1000's,  and the only person to race all 3 distances at the Brynkinalt running festival.
Although achievements in themselves, it was all just preparation…….
September 2021 arrived:  Dragons Back was here and Tim was one of only 90 from over 425 entrants to complete the event. The event starts from Conway Castle in north Wales and finishes at Cardiff Castle in the south.  The route takes in the spine of Wales over 6 gruelling
days, climbing the largest mountains with over 17400 metres of
accent over 241 miles. Tim shuffled over the finish line into the arms of his waiting family completing the emotional and physical journey of a lifetime.  
2022? What it will offer and where the limit will be, lets find
out.