Jack Lindsay
My name is Jack Lindsay, I'm 20 years old. I have been racing motocross since I was 7 years old. I have completed in nationals since I was 10 which lead me on to winning the Bridgestone Masters on my SW 85. I got picked for the worlds in 2017 but unfortunately broke my arm 2 weeks before, meaning I was out. I have gone on to race the Revo British championship and Mx Nationals, which I am now pro level with Apico Husqvarna. When I'm not on my bike you will find me in the gym. Find me on Instagram @jacklindsay433
Harrison Greenough
Hi guys,
I'm Harrison Greenough, I'm 16, and pretty much anything on 2 wheels has been my passion since I can remember! I've raced motocross since I was 4 and loved every minute of it. It's taken me from Florida to California and all the way to Germany and France. On a 65, I competed in the European MX series, and on an 85, post-COVID, I went unbeaten in Holland through the ONK Championship. But after an injury mid-season, I ended up 3rd in the championship.
Currently, I'm racing a 250 in the British Championship and MX Nationals after making a switch from the 125. After leading the MX Nationals, securing 3rd place in the British Championship, and having the opportunity to race the world championship bike, bike problems ruined my season. So we decided to move to a 250. I go from racing on weekends to being an apprentice carpenter by 6 am on Monday!
Other than racing motocross bikes, I'm always out on a Mountain bike having some fun, or in the gym sipping some Lyfe Linez!
On that note, I can't wait to work with the team at Lyfe Linez and see where it takes us.
Find me on Instagram @Harrisongreenough417
BEANIE REECE
Hiya guys!
I am Beanie Reece and I am a 16 year old motocross rider,I have been riding motorbikes since I was 12 years old. I started racing in 2019 and won the British womens BWMA 85cc championship in 2021.
This year I have stepped up into the adult class on a 125cc, so it is a new challenge and I am enjoying each step as it comes!
I am currently riding for Team GB in the IMBA series which so far has been an amazing experience.
When I am not racing or practicing, I'm usually at the gym or getting my nails done!😂
I am looking forward to working with lyfe linez and seeing what we can achieve together!
Make sure to check my Instagram out @beaniereece_
LAUREN-MAY COLLINGWOOD
This year I will be competing in the women's British championship as well as the women's world motocross championship. We are hoping to get some solid results and definitely podium in the British championship. I rode and raced motocross since being a kid, and took a break away from it in 2015, just started back racing again in 2021! Raced the British championship and was finishing podium positions but unfortunately the championship was only 3 rounds so didn't reach my full potential. We have had a strong winter training and riding so hoping this season should be a mega one for us!  
I will be racing for PGVM Yamaha and look forward to racing the British and world
championship.
CHARLIE PUTNAM
Hi, I'm Charlie Putnam. I have raced motocross since I could walk and ever since then it has been a passion of mine. I competed in nationals growing up, winning British masters on a bw85. Since then I have raced European championships on a 2 stroke. Collected arena-cross podiums on a 250. Won the mx2 Expert British masters championship 2018. A side from motocross my other hobbies are boxing, mountain bikes and about anything that gets your heart going! I have my own plumbing and heating company which pretty much keeps me playing around at all these habits! Find me on Instagram @c.putnam91
RORY JONES
My name is Rory Jones, I ride for j4m54 DMC Birmingham ktm, I've been riding motocross since the age of 4 starting off on a tiny Yamaha PW 50 and progressing to where I am now.
In my racing career I've managed to get a lot of great results winning the 125t stroke championship in 2016, 2017 coming 3rd in the mxy2 British championship,2018 winning the title for the mxy2 Bridgestone British champion ship and 2021 moving back down to a 150sx to peruse my love for 2strokes and getting 2nd in the amateur mx2 Bridgestone British championship and coming 5th in the AMCA British championship.
Next year I'll be riding a sx250 ktm in the AMCA British championship and it will also be my pro debut in the mx2 class at the Bridgestone British masters which I am extremely excited about.
I'm so proud to be backed by many sponsors such as, Tim Loveday, DMC Birmingham, J4M54, RFX, serchem, Conor Murphy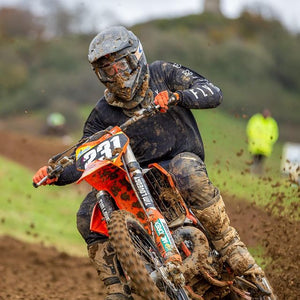 JOSH COLEMAN
My names Josh Coleman, I'm 24 and I began racing in the 50cc division from the age of six joining Portsmouth MXC at grass
roots level and soon found myself in love with the sport. I worked up through the ranks in my youth career, winning my first British title nine years later on an 85cc machine at age fifteen. After this accomplishment, I was on BBC South Today presented by Sally Taylor and went on to receive a brand new KTM 12 from KTM UK after also winning the GT Cup National Championship the same year. The next big honour in my career was being asked by the ACU Federation to represent Team GB in the FIM Junior World Championship, Belgium. Applying what I had learned competing in these events over the years along with hard work and dedication this has opened up the opportunity's to have rode for some great teams. I am currently flying the Holeshot Motocross KTM flag competing in the Mx Nationals for 2022 onboard a KTM 250 SX.

When I'm not absolutely sending it on a dirt bike I'll either be up to
something that involves engines and wheels or renovating my house. I work full time at BAE Systems as a fabricator/welder which allows me to keep on sending it! Find me on instagram @jcoleman661
Charlie chater
My name is Charlie Chater I am 20 years old. I have been interested in motorbikes since I was small and was lucky to get my first bike at the age of 8. At the age of 9 I started racing in the kid series of Enduro. After a few years I soon started competing in the British Sprint championship and became the under 12, youth, Clubman and expert sprint champion.

At the age of 17 , I started British enduro championship. where I have worked my way from clubman to the championship class. I was very lucky to be offered a fantastic offer to ride for Yamaha off-road experience riding the YZ125 and have continued with them ever since.

The last couple of years I have been to a selection of world enduro Championships and have love to experience. This year I was lucky enough to be asked to ride for a GB team at the International six days of Enduro in France, my class had a very high standard of riders and was proud to come home 27th out of 600 riders.

I have a lot ahead of me and I really look forward to see how far I can go. Thanks to everyone who have ever sponsored me and supported me without any of this. My life would be so different.

Follow my progress on Instagram @chaterchater